Nicole Moudaber to Make Special Guest Appearance at RESISTANCE Spider on Day 2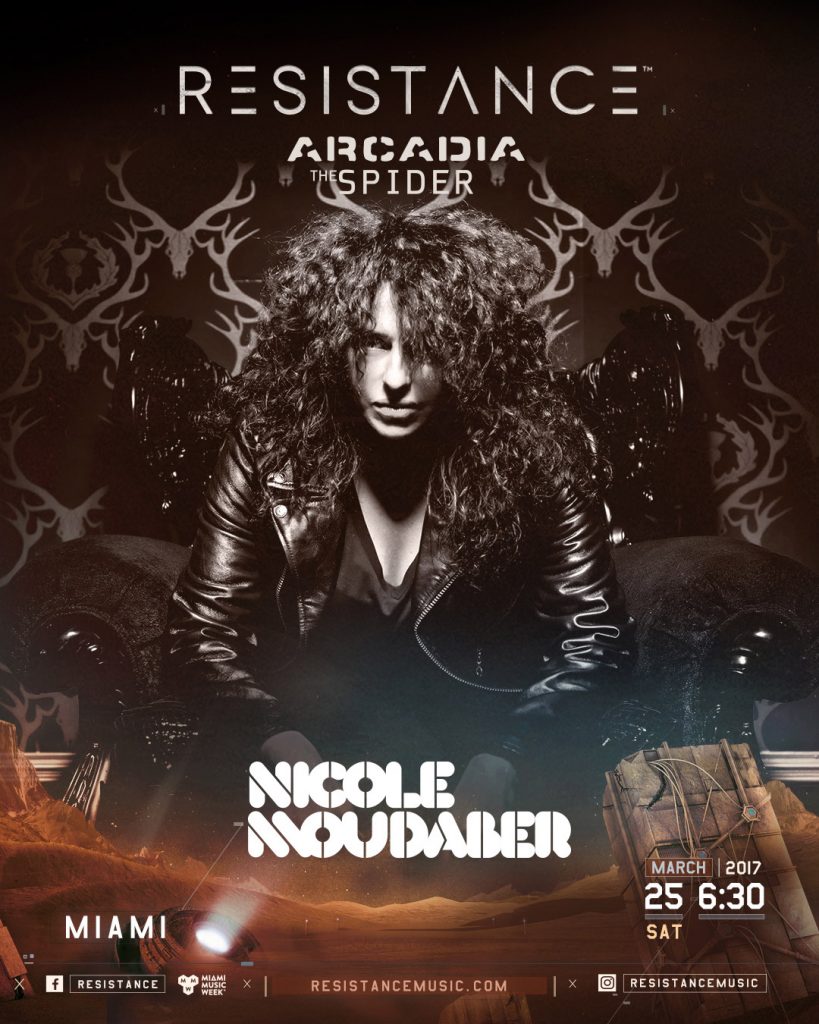 Q

After playing Resistance shows in Singapore, Japan, and Peru, how ecstatic are you to join the Resistance in Miami?

A

I'm always ecstatic to play for Resistance, and obviously Miami is the big one – it's where it all started for Ultra. I love the Ultra team, they're like family to me now.

Q

You are currently one of the leading figures in dance music. After a phenomenal past year, what's in store for 2017?

A

Last year was phenomenal and also exhausting. I'm just back from a well needed 2 month break in Asia, and I'm recharged, re-energised and ready to do it all again. I have lots of touring coming up including hosting my own MoodRAW events and MoodZONE festival stages around the world. I'll be continuing to build my label, Mood Records, and I have some exciting release plans for my own material too – including a special re-release of a big collaboration I first put out in the early days of Mood. I'm also launching a merchandise range with my good friends and collaborators Majesty Black.

Q

What are some tracks that are being played frequently in your sets?

A

Well, of course my new "Empty Space" EP – it just came out on Intec Digital and both Carl and I, and all the usual suspects, have been playing the tracks out a lot. Its deep, hypnotic, got all the elements to create a moment during a night. There are some great producers out there from various styles I'm supporting in my sets… off the top of my head, Undercat, Raxxon, Bleak House, Martin Buttrich, Rødhåd, to name a few …

Q

What is the one essential item you need to have with you behind the decks?

A

Can I say two? Water and ashtray

Q

Why did you decide the name 'MOOD' for your record label?

A

Mood is emotion. Its fundamental to life, and of course to music. There are many different moods and different states of mind a person can be in, and this concept gives me a freedom to explore different emotions with the music I release. The music must always invoke a feeling, emotion or passion, whether it be euphoria, reflection, warmth, isolation, darkness – I want the music I release to make you feel something. And how appropriate my name is Mood-aber and I'm all of the above.

Q

Tell us more about your work with Skin and what plans do you both have for the future?

A

I collaborated with Skin last year on the Breed EP. It was a challenging project as Skin and I are from very different musical backgrounds – it was a very different way of working for me and I learnt so much throughout the process. It really worked out – the end result was incredible. We played many shows together last summer back to back, and I'd love to do more this year, more DJing and music – we are planning it ! We're taking a boat to Formentera in Ibiza this August, a few glasses of Rose in the sun and off we jam all day…

Q

What are your thoughts on genre classification & labeling techno and house music?

A

People will always like to classify genres, but I'm a music lover and I play all music that I love. I never wanted to be pigeonholed into one style. Perhaps people know me best for playing "techno" but I play all kinds of music whether it's on my radio show or in clubs or at festivals, at sunrise or sunset. I play deep chill out, ambient, all the way to industrial techno and anything in between. At the end of the day it's either house or techno.
Nicole Moudaber will be joining the likes of Matador, Marcel Dettmann, Chris Liebing and many more on the RESISTANCE Arcadia Spider in Miami today!